Patient Care Coordinator/Communications Manager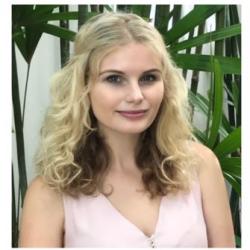 Our other office team member is the incredibly talented Ashlee.
Ashlee has a background in marketing and communications and is a passionate advocate for all aspects of animal health.
When the Sunset Vets team were searching for someone to help us capture and communicate our message about the benefits of palliative care, we couldn't go past this dynamite.
Compassionate, kind and with depth of understanding well beyond her years, Ashlee is perfectly suited to helping our clients through their most challenging of days. She is also key to our bigger vision of helping to deliver much needed end-of-life education and palliative care services to all families who would choose it for their pets.
Ashlee is constantly challenging us to strive for excellence of care and is responsible for maintaining the clinical relationships that allow us to deliver the best results for our patients. We love that she believes in this mission and her desire to help us change the face of palliative care in Australia makes her the perfect addition to our team.
Special interests: Yoga, health and nutrition.
It always starts with one. Who was your special pet? Though I haven't had many, it's hard to pick just one!
They've each formed a beautiful part of my life and are all deeply missed. I must admit though, our little Cardigan Corgi, Sam, was an extra special addition to our family. He had boundless energy and never seemed phased by anyone or anything, always content strutting confidently about his merry way. He owned his quirks and despite his energetic nature, had a beautifully grounding effect on us all. Seeming to instinctively know when someone needed a little extra love or company, he happily provided it.
What else are you passionate about? Animal welfare and sustainability are very close to my heart. I'm also committed to developing myself through tools such as yoga and meditation so that I can continually work at showing up as the best version of myself to then help and be there for others and the causes I feel strongly about.
What do you love about palliative medicine? I love that palliative care helps ageing pets achieve the quality of life they deserve and allows us to give back to them when they need it most. I also love that it provides options and true support for families making difficult end of life decisions.
Words you live by: 'Try to be a rainbow in someone's cloud.' Maya Angelou.
'The personal life deeply lived always expands into truths beyond itself.' Anais Nin.
Qualifications: Bachelor of Media and Communications.