Palliative Care Veterinarian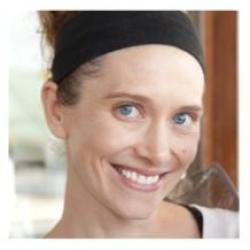 Dr Dallas is famous with her clients for her compassionate approach to animals. Both pets and their owners warm easily to Dallas and she has developed a reputation for being a genuinely caring and approachable veterinarian.
With nearly ten years of clinical experience Dr Dallas spent the early years of her career working in some of Australia's distant communities including Charleville in outback Queensland and Newman in remote Western Australia.
Dr Dallas also has a strong clinical interest in small animal internal medicine, which along with her caring and experience, enhances the quality of care she offers through Sunset Vets.
The standard of emotional care Dr Dallas delivers to owners facing end of life decisions could only be described as second to none.
Special interests: Internal medicine and managing patients with multiple disease conditions.
It always starts with one. Who was your special pet? Though there have been many over the years, Lewis, our extremely aged cat has a special place in my heart. From when he was a feisty kitten through to his older years, Lewis has moved from house to house, town to town with me, and only had the occasional hiccup along the way. Now that he needs lots of tablets, and sometimes struggles to jump up into bed, it's nice to be able to share these last years with him.
What else are you passionate about? My family, and animal welfare of almost all kinds. I am a consistent advocate for the rights of animals to live fulfilling lives without fear, and find myself lobbying those people with the power to effect change and supporting groups who I feel share my feelings on the subject.
What do you love about palliative medicine? The opportunity to maintain optimum quality of life for as long as possible, which I think is something all pets deserve in their old age. I also feel like it's an honour to be able to help the people who have cared so lovingly for their pets through the last years.
Qualifications: Bachelor of Science, Majoring in Biomedical Science, Bachelor of Veterinary Science (Hons).