Palliative Care Veterinarian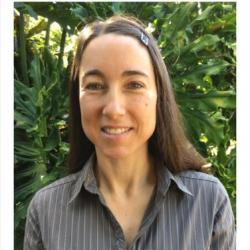 Occasionally we're lucky enough to cross paths with someone special and we know that they're about to positively influence our life. For the Sunset Vets team, it was clear this was the case from the moment we first met Dr Giles.
Coming to us with a background in emergency medicine and critical care, Dr Giles has spent the last two decades caring for much-loved pets in some of their darkest hours.
Giles graduated from the University of Sydney in 1997 and was awarded the University Medal for top student of her year.
She spent her early years working in practices in Sydney, Melbourne and the UK.
As an experienced emergency vet, Giles has seen it all – from sick puppies and kittens through to families forced to say a heartbreaking goodbye in the ER room after an unexpected diagnosis. It was these experiences that lead her to want to be a part of what we do here at Sunset Vets.
She connects deeply with the ideals of supported palliative care and understands first hand the importance of families having access to the option of gentle euthanasia at home.
Giles lives and works in Brisbane and is kept incredibly busy by her husband Simon and their 2 young children.
Special interests: Critical care and emergency medicine.
It always starts with one. Who was your special pet? As a child, I had a pet budgie called Fidget who was a truly remarkable bird. He spent many hours distracting me from my homework chasing my pen across the page, nibbling my ears and making everyone laugh with his ridiculous antics.
My first pet as an adult, a Burmese called Evie will always have a special place in my heart. She was the most gentle and loving animal I have known.
What else are you passionate about? Striving to be the best role model I can be for my children. Striving to be respectful and kind to all people, animals and our beautiful world. Taking care of myself with yoga, rock climbing and mountain biking.
What do you love about palliative medicine? I love that I get to work with owners who are dedicated to their pets in such loving and respectful ways. I love that I can help to relieve pain and suffering so that pets can remain engaged in their family's life. I love that I can facilitate peaceful farewells and help to make this difficult time a positive experience.
Qualifications: Bachelor of Veterinary Science (Hons).