Registered Psychologist and Pet Loss Expert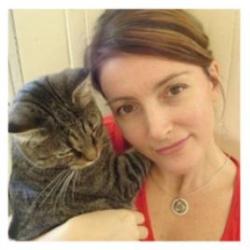 Ever since she was a child, Tamzin has been fascinated with the way animals experience their lives. She has spent many hours in their company and has over 20 years experience studying the welfare and behaviour of marine mammals, cats and dogs.
She has worked in the field, private practice, animal shelters, zoos and universities teaching and developing animal behaviour and welfare programs.
As a comparative psychologist her focus is on our relationships with animals. In 2006 she created Talking Animals to increase awareness of animal welfare and conservation through her counselling, eBooks and products.
Tamzin is a crucial part of the Sunset Vets difference and is able to provide professional support to families struggling with the illness or loss of a much loved pet.
Special Interests: Acceptance and Commitment Therapy, including mindfulness training. Art therapy. Feline behavioural medicine. Cetacean affect, social analysis and cultural learning.
It always starts with one. Who was your special pet? One is hard. Honey was my special feline friend growing up. She was called Honey for the honey coloured fur on her tummy. We used to put on shows where she jumped through hoops, and on and over chairs. She loved it!
There was also Pishie, who was a Burmese cat. She loved playing 'chase' with me around the house. She slept next to me with her head on the pillow.
What else are you passionate about? My art and writing and using this for the welfare and conservation of animals. I am a scientific illustrator and I write about my research on dolphins.
What do you love about counselling? Sharing the therapies I have learnt so that others can find peace of mind.