Originally used to treat Parkinson's disease and influenza virus A in humans1, Amantadine is becoming increasingly popular for its use in veterinary patients with chronic pain. As an NDMA antagonist, it may help to reduce central sensitisation and is commonly used in combination with NSAIDs, Gabapentin and Opioids.
Why Use Adjunctive Pain Medications?
The sensation of 'pain' is produced through several pathways. The most common pathways involved in chronic pain are inflammatory and neuropathic in origin1. If we only target one pathway, then pain levels may not be appropriately managed. Hence the benefit of using an NSAID with a medication that targets neuropathic pain, such as Amantadine. By addressing as many pain components as possible, we will yield a more optimal outcome for our patients.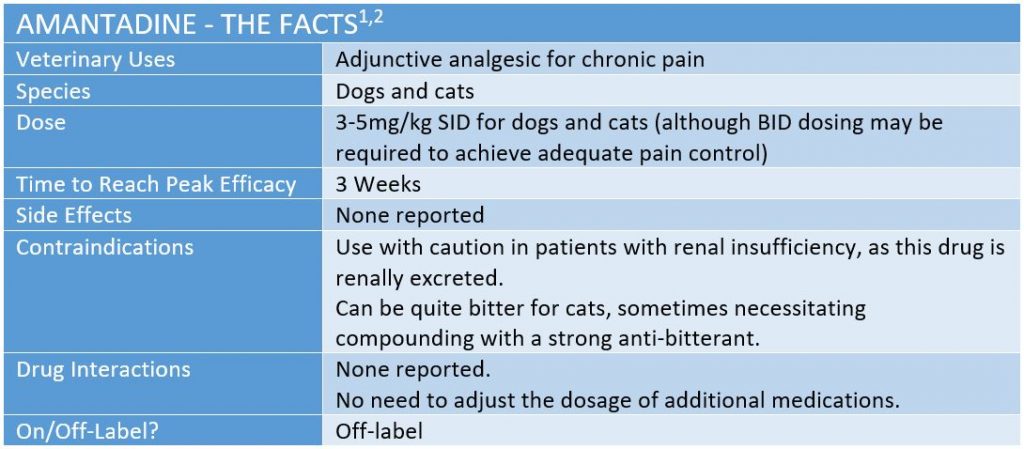 Sourcing Amantadine
There is currently no veterinary-approved formulation of Amantadine2, but a script may be written for clients to source Amantadine from a human pharmacy. It is commonly sold under the trade name 'Symmetrel' and comes in 100mg capsules containing a liquid. It is relatively inexpensive.
Evidence
Only one study has been done to assess Amantadine's analgesic effect in dogs3. This study was randomised, blinded and placebo controlled. 31 dogs with NSAID-refractory hind limb osteoarthritis participated in the study. Each dog went for a period of 7 days with no analgesia, then all dogs were placed onto Meloxicam for 5 weeks. After 21 days of Meloxicam administration, the dogs received either a placebo or Amantadine (3-5mg/kg SID PO) for 21 days, in addition to the Meloxicam. Owners were asked to assess activity using client-specific outcome measures (CSOM), and a series of secondary outcome measures were also used. The study found a significant improvement in activity (based on the CSOM) in those dogs receiving Amantadine, compared to those that received the placebo. There are some limitations of the study, including the fact that only 1 type of NSAID was used and only 31 dogs were involved in the study.
A 'Letter to the Editor' in the Veterinary Anaesthesia and Analgesia journal described a case of neuropathic pain in a dog that responded well to Meloxicam and Amantadine, after having little improvement with Tramadol/Meloxicam and Gabapentin/Meloxicam, respectively4.
Currently, there are no studies assessing the efficacy of Amantadine in cats.
Although more studies are needed to investigate Amantadine's efficacy for our veterinary patients, it remains a popular adjunctive analgesic for palliative care veterinarians and we would encourage you to incorporate it into your pain management plans too!
References