4 Things to Consider if you Own a Senior Dog
Although they would never want you to know it, getting older means your senior pet's needs and abilities change. Here's 4 things to consider when it comes to taking care of your senior dog.
1. BEDDING
Good quality beds can make the world of difference for your senior pet! The best kind of mattress for senior dogs is typically a high-quality memory foam one. They offer plenty of support to cushion ageing joints and the stiff foam makes getting up off the bed much easier for golden oldies. Bedding that is too soft and squishy is not advised as your older pet will struggle to walk across this. To avoid injury, make sure your pet's bed doesn't slide around underpaw and avoid loose blankets that may become a trip hazard.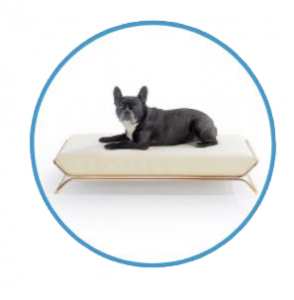 2. EXERCISE
Obesity can exacerbate joint pain and conditions such as arthritis so while your pet will definitely slow down with age, gentle exercise suited to their needs and health is important. Short, slow, gentle walks are a great idea. Try to walk in moderate, rather than hot or cold temperatures and keep water handy so they stay hydrated.
Swimming is another fantastic option because it is low impact and gentle on weak joints and muscles but remember to stay within your pet's capabilities. Start with short swims and ensure plenty of rest in between dips.
3. NAILS
If your furry friend is a senior, walking on overgrown nails can be painful, especially if they have arthritic joints. Ensuring a toenail trim approximately every 3-4 weeks will help keep nail length at bay and help with gripping the floor when walking.

4. FOOD
Ageing pets (like ageing humans) have less nutrient absorptive capacity compared with younger dogs. Whilst their diet itself should be nutritious, it's also good to consider adding in some supplements or multivitamins. to further enhance their health and quality of life.
Look particularly to supplementing things like fatty acids for their neural, kidney and skin health as well as liver supplements and vitamins directed and supporting joint health.