Sunset Vets Palliative and End of Life Care (Sunset Vets) started with just one Vet who was determined to redefine the way we support families facing end-of-life decisions with their pets. We have now grown to a national service and are proud to be leading the way in palliative care and euthanasia medicine.
Our purpose is to help families access specialised end-of-life care within the comfort of your home. Above all, we know just how difficult saying goodbye is and we are here for you at every stage.
Sunset Vets is Australia's largest network of Palliative Veterinary Care professionals. We support Veterinary clinics and clients with home visits across four states, and phone based support to pet owners Australia wide. 
Through a team of mobile Veterinarians, we deliver specialised palliative and euthanasia services at-home, to families in need. 
Our patients include those with complicated medical needs or who are approaching end-of-life.
Our clients are supported by an incredible patient care team in head office. We are here to ensure you're connected with the right support and services.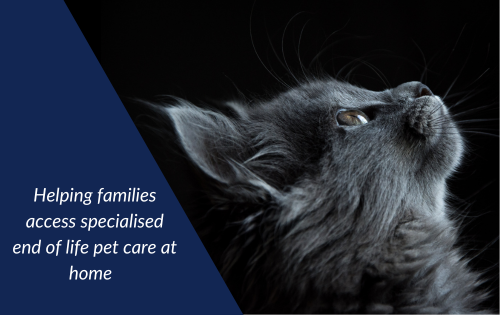 End-of-life care is an emerging field of veterinary medicine and we're dedicated to being at the forefront of it. 
Above all, we believe that the moments at the end of a pet's life are to be treasured and we are here to help. Whether you are considering palliative care or euthanasia, we are committed to providing a different type of care during a significantly difficult time. 
Time and time again, we have seen that the Sunset Vets approach equates to better outcomes for our patients. In addition, we know that well supported families are better equipped to respond to their grief. We are here to help and invite you to get in touch by clicking the below button.