Here at Sunset Vets Palliative and End of Life Care, we're incredibly proud of our founder, who's passion and dedication to her patient's is at the heart of all we do.
As a leading voice in the field of Veterinary Palliative Care, Dr Jackie is one of Australia's most experienced Palliative Care clinicians and spends much of her time helping families to effectively navigate medical decision making at end-of-life. When she isn't directly caring for her patient's she can usually be found lecturing, sharing her professional knowledge with colleagues and clinics, and advocating generally for the advancement of palliative care issues.
After graduating with honours from the University of Queensland in 2006, Dr Jackie spent the first part of her career in mixed and small animal practice before an interest in the managment of osteoarthritis and chronic pain led her head-first into the field of Palliative Care. From there, she quickly recognised there was a need for more supportive, targeted and professional care at end-of-life, and began pioneering the industry leading support that the Sunset Vets team deliver today.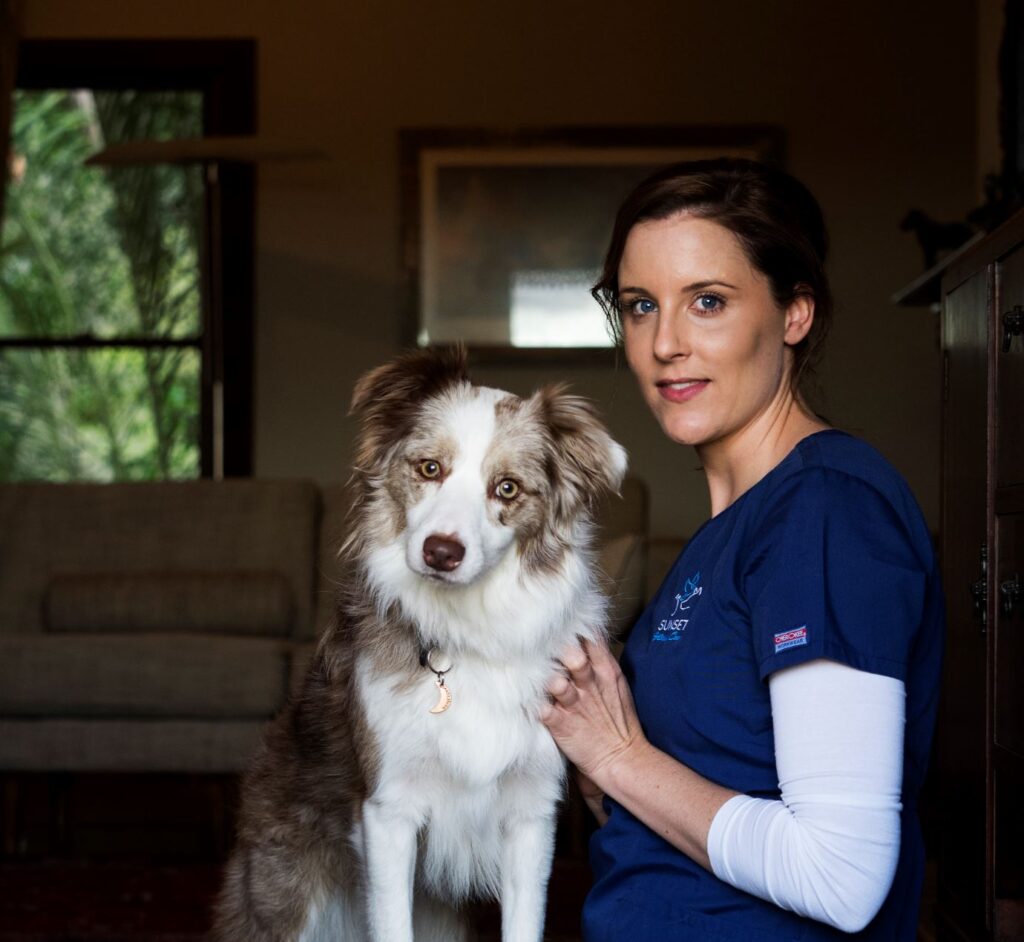 BVSc hons, IAAHPC Certified Palliative Care, Dip CMT
In addition to her work with Sunset Vets, Dr Jackie is the current Australian representative of the International Association of Animal Hospice and Palliative Care and co-founder of the Australian Veterinary Palliative Care Advisory Council (AVPCAC), an initiative bringing together specialised expertise across the industry in order to improve patient outcomes through the development of best practice end-of-life care. 
Dr Jackie is also the lead clinical veterinarian for the Brisbane branch of Pets in the Park. This national charity is dedicated to supporting some of our most vulnerable community members, and helping keep pets and their people together. Each month, volunteer vets and nurses provide free veterinary care for the pets of people who are experiencing or at risk of homelessness, and the clinical team welcome donations of time, expertise or funds from both industry and the wider community for this important cause. 
Through years working with families experiencing critical medical decision making and grief, Dr Jackie has developed a deep understanding of the human and animal bond and has a unique perspective on the management of pain in patients approaching end-of-life. She is a passionate speaker and industry advocate, recognising that end-of-life is a moment where more support is desperately needed and we're so proud of the important conversations she and the wider Sunset Vets team continue to lead nationally.