My partner and I adopted Dukey from Labrador Rescue when he was 8 years old. We journeyed to the centre for a meet and greet and Dukey immediately welcomed us by dropping and showing us his belly. I still remember the car ride back to his new house, he spent the whole trip with his head resting on our shoulders.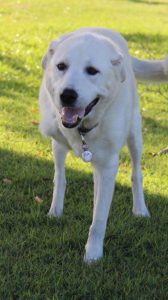 His later diagnosis of Histiocytic Sarcoma, a rare and aggressive form of cancer, was devastating. We were told by specialists that amputation was a chance for a cure, so we went ahead with the surgery.
Fortunately, Dukey recovered quickly and went back to living life and spreading love in his special way. We didn't think he could ever become any cuter, but having three legs seemed to add to his charm!
I remember six days after his operation I had to go out to the shops. It was the first time Dukey would be left alone. I spent hours painstakingly ensuring that the house was safe and that he wouldn't be able to slip anywhere. The entire time I was gone I spent in a panic, hurrying to get back home to him to make sure he was ok. When I got home, he was relaxing contentedly watching tv on the couch!
Dukey seemed to be doing brilliantly, but at one of his routine check-ups, a mass was discovered in his abdomen. His cancer was back. We only got 6 weeks after that.
Though it was sometimes stressful, looking after Duke, never felt like a burden, more an act of love that he deserved and I enjoyed providing. I found that we bonded even more and because we didn't know how long we had together, we made sure to have fun together every day. We never waited for tomorrow. I cooked all his food and tried several different treatments. At times, it really felt like I was going to fix his cancer, but we eventually realised that the treatments weren't working. Dukey's cancer was continuing to grow. Ten days before saying goodbye to Dukey, we really noticed his quality of life deteriorating.
Having the support of a palliative care veterinarian made the whole situation so much easier. Knowing I could call and ask questions was helpful. The kindness and compassion of the vets always made me feel a little better in what was such a difficult time.
Saying goodbye in our own home was what we wanted for Duke. We wanted him to be comfortable and surrounded by love. I don't know how I could thank Jackie enough. I couldn't have asked for a better person to help us say goodbye. It was a day I was absolutely dreading. I honestly didn't know how I could go through with it, but I couldn't have asked for a better send off. It was like he just went off to sleep and was then carried out to the car on a stretcher like a little hero.
I've continued growing and working on 'Dukey's Cause' – to help raise awareness and funds for the Australian Animal Cancer Foundation. So far, we've raised $17 000 and I have no desire to stop. It has helped me immensely with the grieving process and knowing that Dukey's memory lives on and that so many people will remember him makes me happy. Dukey was one of a kind – a very special gentleman who was born a dog, but died a legend.