Gypsy's Story and the incredible generosity of her owner.
When we first started The Sunset Benevolence fund in Marie's honour, we had a feeling that there certainly must be other kind-hearted folks such as those involved in Marie's story, floating around in our community. Nevertheless, we have been taken aback by the generosity we've witnessed so far. Cynthia Burnett's story in particular shines brightly. Cynthia's contributions to the animal world have been nothing short of amazing the past 23 years.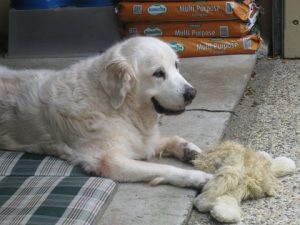 In this time, she has been President of Animal Liberation Qld as well as Animals Australia, which she now assists as a member of the Board of Directors. Cynthia has served on government and institutional animal ethics committees regarding the use of animals in research. She has also written over twenty submissions to revisions of Queensland legislation that affected a wide range of animals.
But today, we focus on her girl Gypsy. Cynthia donated to the benevolence fund last month in honour of her beautiful girl and here we share a little about Gypsy's very special story and celebrate her life.
Cynthia had always been a not-so-secret admirer of Goldies, although she had never owned one herself! That was to change.  In 2006, Gypsy, a 3-year-old Golden Retriever was found wandering the streets. She was picked up by a council pound truck in the Pine Rivers region and was initially taken to the Dakabin RSPCA shelter. But it was discovered that she was on heat at the time, so Gypsy was transferred to Fairfield where there were surgical facilities. It just so happened that a friend of Cynthia's was a senior vet at the Fairfield RSPCA at the time. Knowing Cynthia's love of Goldies, she quickly rang Cynthia.
Like most dogs who end up in shelters, Gypsy was cautious about what was going on, but over time she relaxed and her true colours shined through. She was a supremely dignified dog, gentle and she adored receiving and returning love and affection. Typical of a Goldie, she was social with people and dogs. Over her lifetime with Cynthia, Gypsy made an astounding twenty-four canine friends. Out of Gypsy's friendships with these dogs, Cynthia actually made several new friends of her own! Gypsy loved the beach and they regularly visited local dog pools together. Gypsy became like a puppy again, playing with her soft toys and enjoying her twice daily walks.
In 2016, Gypsy was struggling with significant arthritis in her shoulders and leg joints and Cynthia wanted to do everything possible to ensure comfort and quality of life for her girl for as long as possible.  Gypsy was already on multiple medications and Cynthia had bought her some soft neoprene ankle support braces to help. But she wondered if there was anything more she could do. Cynthia did some research and before long Gypsy became a much-loved patient of Sunset Vets.
Gypsy had three sessions at home with Dr Jackie. Together they modified her medication dosages and added some new medications into the mix. Gypsy also had some regular massage sessions, all of which helped her feel more comfortable.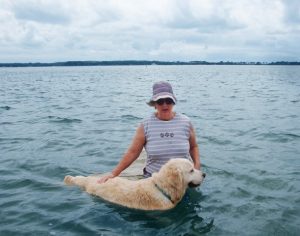 Sadly, Gypsy passed in 2017 at 14 years old. The aim had always been for Gypsy to say goodbye at home, but sometimes life has other plans. Beautiful Gypsy was euthanased in the ER. Fortunately, Gypsy was able to spend her final months in comfort and happiness in the company of Cynthia and with Dr Jackie's support, Cynthia felt equipped to face the challenges of her care and the decision making around her passing in those final days.
The benevolence fund is all about celebrating and honouring the special pets, such as Gypsy, who share our lives, as well as offering people the opportunity to make a gesture of paying it forward in honour of their pets as part of the grieving process. We are excited that the fund allows us to pay it forward to those who may not be able to access care easily. Cynthia's own comments about why she donated, sum it all up perfectly … 'I feel for people who love and look after their pets as best they can on limited budgets. If my donation can help one owner with an aged, ill pet get the best possible care and to provide the best possible passing, I am grateful that the Benevolence Fund offers me the opportunity to do this.'
Thank you, Cynthia. Your beloved Gypsy will forever be honoured and remembered. We are beyond grateful for your continued support in all that we do.