This is a story that needs to be shared.
Gentle and affectionate, Maple Cherry was never meant to live past a few hours. When I first heard her story, it was enough to warm, and to break, my heart. It also really opened my eyes and convinced me to find out more.
Maple was the only survivor of her litter. Heartbreakingly, her welcome to the world wasn't the deluge of love that it should have been. Instead, she was greeted by the words 'dispose of her' – an instruction from her owner to the veterinarian following her birth.
Fortunately, Maple got lucky. The gorgeous little Greyhound was saved by two vet nurses (who happened to later save another Greyhound, Petal, who was to become Maple's best friend). When Maple reached 8 weeks, the little bundle of love made the long journey from Sydney all the way to the Sunshine Coast to find refuge and sanctuary in her new forever home with Jodie, her family, and their other rescue Greyhound, Phoebe. She fit her new family like a glove and took to the Sunshine Coast lifestyle like a fish to water! She charmed her way up the social ladder to become 'Queen Bee' of the greyhound social scene.
But just before her second birthday, life took a glim turn for Maple. While running on the beach, she broke her rear left leg. After two failed fracture repairs and no sign of recovery, little Maple became an honorary member of the tripaw tribe.
The challenges that followed were huge and Jodie went above and beyond for her girl. She left her job and was housebound for 8 months to prioritise Maple's recovery. Jodie played the part of Maple's full-time carer to perfection.
There were weekly vet trips and bucket loads of water and physical therapy with Dr Brooke from Holistic Animal Physiotherapy. Fortunately, it all paid off. Miss Maple began cruising through life as a tripaw quicker than most would expect! She loved getting back to her social outings at the Noosa River and doggy beach.
Two years went by before things took another turn for the worse. It was 2016 when Jodie noticed something wasn't quite right with her girl. An x-ray revealed a heartbreaking and unexpected diagnosis. Maple had an aggressive cancerous bone tumour in one of her three remaining legs. Amputation wasn't an option. Jodie and her family faced the decision that no pet owner ever wants to face. They were shattered.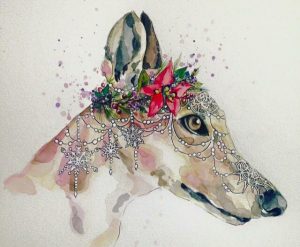 Not long after, Jodie was told to get in touch with the team here at Sunset Vets. Maple was a very special sunset client. Endlessly cheeky, she stole Dr Jackie's heart. She had lived a beautiful, but battle-filled life and it was decided that her goodbye should be one without any struggle. Maple Cherry had a peaceful and gentle passing with Dr Jackie's help. She said her final goodbyes at home surrounded by Jodie, Nick, Phoebe and Jodie's friend Tracey on the 12th of September, 2016. They opted for private cremation and had their girl returned to them by the team at Pet Rest.
One year on and our hearts still break for Jodie. Maple was taken far too soon, but Jodie made sure that she received enough love in her life to rival any golden oldie. She lived a big life in her short years. Memories of Maple and the love she brought still fill Jodie's home. Jodie even won a beautiful water colour of Maple when Caroline at Perth Life Casting ran a competition to create a Greyhound Christmas card design. Maple was chosen from approximately 50 greyhounds as, like us, Caroline wanted to share Maple's story. Proceeds of the cards sold went to Greyhound Adoptions W.A. (You can see the beautiful image above.)
The unconditional love and support Jodie gave her girl is a true inspiration. Jodie – thank you for rescuing Maple in the first place when she technically shouldn't have survived. Thank you for not giving up when she broke her leg and thank you for your braveness in the face of her diagnosis with bone cancer. You are truly amazing.
There's nothing more heart-warming than seeing how much love you continue to put into the world through your rescue efforts with Phoebe and the Greyhound rescue community.