Palliative Care Veterinarian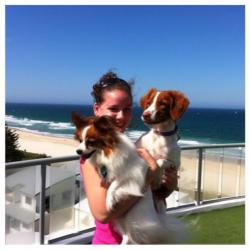 When we first met Dr Brittainy, we were quick to realise how special she was and how much we wanted her on the team.
Having graduated with her Veterinary Degree from the University of Queensland in 2012, Brittainy has packed more than we thought humanly possible into her career and has amassed a wealth of experience through roles in both general and specialist veterinary practice.
After graduation, Brittainy completed a 12-month internship program with the Veterinary Specialist Services which allowed her to develop advanced skills in internal medicine, emergency and critical care, cardiology, oncology and animal physiotherapy.
She then went on to work with some of the world's top cardiologists through a second internship at the University of Edinburgh.
She has worked in teaching hospitals both here and internationally as a pain and anaesthetics clinician and has published and presented on a number of research projects.
Her love of the human-animal bond started in early childhood and she has all the traits a palliative care veterinarian needs to have; dedication to her patients, compassion for the families she works with and an unwavering desire to ensure no family has to make those difficult choices unsupported.
Special interests: Cardiology, Palliative care, Pain management, Chronic Disease
It always starts with one. Who was your special pet? For me, there was no single pet. I was born into a household with multiple pets. I was always present at the end, even from a young age. Some moments stand out in my memory – being chased around the paddock by my childhood pony "Brandie", working for months to gain the trust of a timid little kitten mum had found, eventually to become my constant companion "Willow", reading "Black Beauty" aloud to my cat Zoe in her last weeks – our favourite story.
What else are you passionate about? I currently have 2 dogs – Haiku and Confetti, who are my world. Haiku was recently diagnosed with a rare form of inflammatory bowel disease, where she went from being her healthy self to a very ill dog in ICU within days. I am enjoying the clinical challenge of stabilising her disease with medication and diet, helping her to get back to her healthy self.
What do you love about palliative medicine? I love helping families spend that precious time together in comfort and peace – however long it may be.
Qualifications: Bachelor of Veterinary Science (Hons).