Palliative Care Veterinarian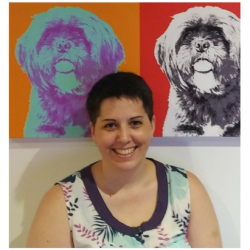 Dr Rebecca, or Bec as we like to call her, is a natural when it comes to supporting families through even the toughest of moments. With a smile that literally lights up a room and an intense passion for comfort focused care, she is fast becoming one of our most loved vets.
Graduating from the University in Queensland in 2004, Bec has spent many years working in general practice in both Australia and the UK. Alongside her beautiful nature, that instantly puts clients at ease, Bec is also a pharmacology wiz and is an expert at managing complicated medical cases.
She is known for her ability to help her clients work through difficult medical decisions with their pets and is an advocate for better client education and support.
Bec lives in Brisbane with her partner Dan and works with families right across the greater Brisbane region.
Special interests: Pharmacology, chronic disease management and pain management
It always starts with one. Who was your special pet? When I was 3 years old, my family acquired a cat, Blackie. I think she came with the house we moved into. She avoided me when I was very young, but I loved her anyway. Once I got a bit older, she always slept on my bed, and often on my head! When I was 8, Blackie was diagnosed with kidney failure and had to be euthanised, it was that day I decided that I wanted to be a veterinarian.
What else are you passionate about? I'm a self-confessed geek. I love knowledge and learning, trivia and finding out new things. I spend a lot of time playing board games with my friends; we have regular games nights and are always looking for new games to play. I also adore fantasy and science fiction – television, books and movies.
What do you love about palliative medicine? Palliative medicine is about changing the focus. We look at what can be done rather than what can't. We can't cure our pets; but we can help them be happy and comfortable. Even the smallest thing we do for them matters.
Qualifications: Bachelor of Veterinary Science (Hons)