Palliative Care Veterinarian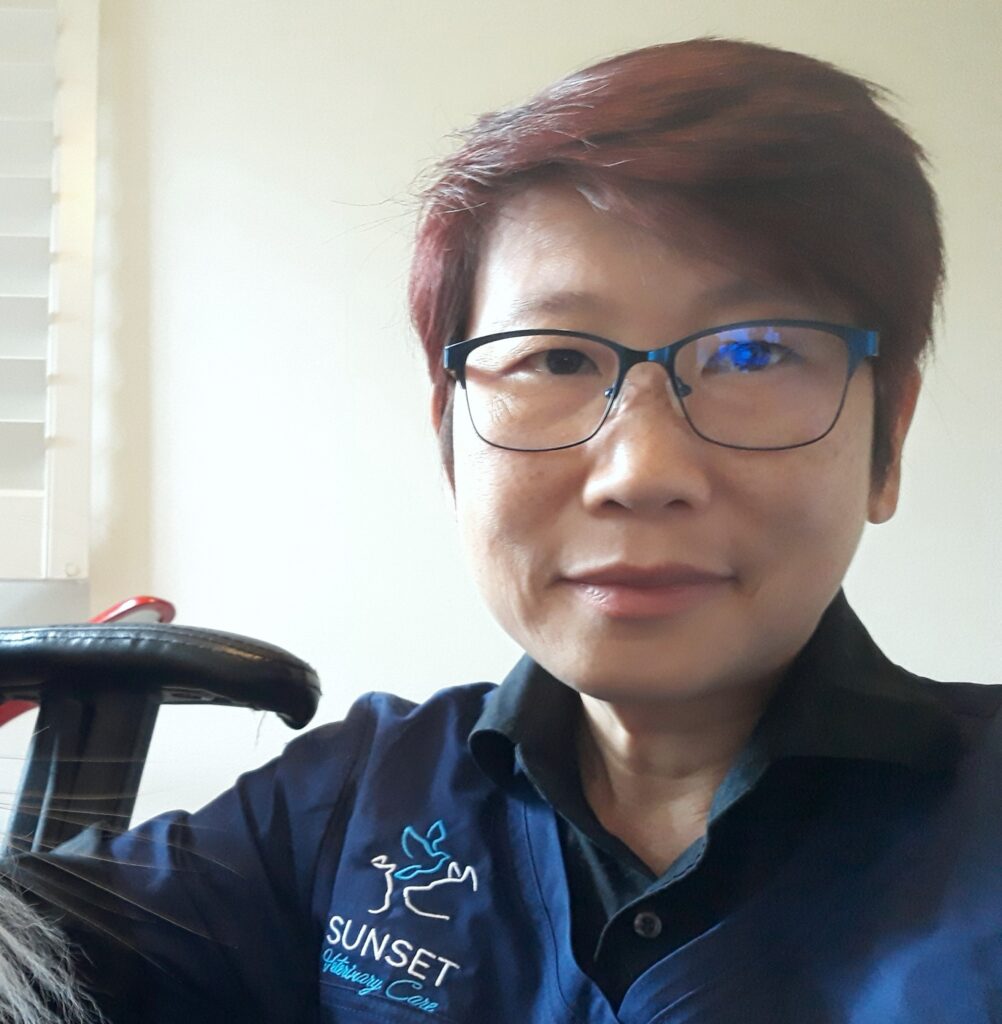 Dr Stef (Stephanie) was born in Malaysia but has been a Sydney resident since 1994. Dr Stef resides in the Lower North Shore and shares her home with two fur babies – Tenzing (a Ragdoll) and Bella (a naughty Tortie). Whilst most of their day is spent sleeping in cosy nooks, on the bed or couch (or Tenzing's favourite; on a pile of clothes) they both love greeting Dr Stef after a long day at work.
Like most if not all Vets, Dr Stef's love of animals began as a young child, through the years she's loved canine companions, budgerigars, a dwarf rabbit (named Thumper, of course) and felines. They've all influenced Dr Stef's veterinary career in one way or another, though Tenzing and Bella continue to be her daily inspiration.
After graduating from The University of Sydney, Dr Stef worked briefly in general practice before moving into emergency medicine. Working in emergency and critical care, Dr Stef sees patients that present with acute problems as well as chronic conditions, including those with life-limiting illnesses. With these particular patients there's a clear need for palliative care and sadly in some cases, end-of-life care. 
Special interests: Palliative care, emergency & critical care and feline medicine.
It always starts with one. Who was your special pet? Lisa, my family Doberman, she's an integral part of my earliest childhood memories. As well as protecting our home from human intruders and snakes, she was very tolerant of a young child's playfulness and the puppy that later joined the family. Sadly, she passed away quietly one night from an unknown cause. Lisa will always be fondly remembered for her loyal and gentle nature.
What else are you passionate about? I'm bit of foodie and will travel to the opposite ends of Sydney to satisfy particular food cravings. When not on a quest for food, I love exploring Sydney's great outdoors, visiting different beaches, stand-up paddle boarding, or playing badminton. Travel is also back on the agenda now. So many places to visit, too little time to do it all. The Galapagos islands is definitely on my bucket list!
What do you love about palliative medicine? Maintaining quality of life for patients with chronic pain or life-limiting illness is really important.  Often owners will comment that their pet is simply slowing down "because they are getting old". However, what is often needed is a discussion about chronic pain and what can be done to manage it. With life-limiting illness, the remaining time that owners have with their beloved pet is so precious, we can help patients via Palliative medicine to live out their remaining days a little more comfortably and to bring some joy (and relief) to their owners.
Qualifications:Doctor of Veterinary Medicine, F Cert (E&CC)